Project Learning Tree is an award-winning environmental education program designed for teachers and other educators, parents, and community leaders working with youth from preschool through grade 12.
PLT's Biodiversity Blitz Trees features content from Explore Your Environment: K-8 Activity Guide. This new PLT activity guide will be published in Spring 2021. Get a jump start with your students and download a themed collection of activities today! Our advanced-release content is organized around a particular grade and topic.
Biodiversity Blitz: Grades 3-5 Activities
Biodiversity Blitz Trees is a downloadable, password-protected PDF for educators of students in grades 6-8 that invites young learners to investigate the variety of species in an ecosystem, and how this variety – or biodiversity – helps sustain life on Earth.
Three hands-on activities, with an emphasis on science, English language arts, math and social studies, engage students in learning about why biodiversity is one of the most important indicators of an ecosystem's health, and how greater biodiversity means a greater ability to cope with change.
Designed to be flexible, the activities can be used as individual, stand-alone lessons, or all together as a cohesive unit of instruction using a storyline technique.
Activities
1. Discover Diversity
Students imagine that they are visitors from outer space, viewing life on Earth for the first time. As they describe the life they find in a small plot, they will become more aware of the diversity of life.


2. Charting Biodiversity
Students explore different ways that organisms are adapted for survival. This activity helps students understand why there are so many different species on Earth.
3. Web of Life
By conducting research and modeling a food web, students learn how diverse organisms are connected in a forest or other ecosystem.
Features
Multidisciplinary activities integrate core discipline areas, including STEM subjects, reading, writing, and social studies.
Hands-on activities connect children to nature in the city and the outdoors.
How to think, not what to think. Activities are designed to develop students' critical thinking, problem-solving, and decision-making skills.
Background information, suggestions for enrichment, and student assessment tools for teachers.
Copyright-free Student Pages, or worksheets, can be easily loaded to Google Classroom.
Activities are practical, adaptable, and flexible. They are easy to do, require minimal preparation; no special supplies are needed.
Explicit connections to academic standards for science, English language arts, and social studies.
New supporting features include "Differentiated Instruction" techniques, "Take It Outside!", "Did You Know?" forest facts, plus a "Career Corner" within each Student Page introduces youth to forest-related careers.
Each PLT activity displays explicit connections to practices and concepts mandated by academic standards. Below is an example from "Discover Diversity." Detailed standards correlations are available at www.plt.org/alignment-to-standards.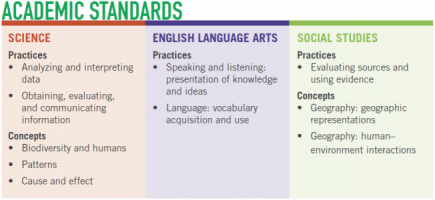 About PLT's Activity Collections
Biodiversity Blitz is one of three PLT activity collections. Other titles in this themed series for educators are Sensational Trees for grades K-2 and Discover Your Urban Forest for grades 6-8.
PLT's practical, hands-on activities for teachers and nonformal educators, youth group leaders and home schoolers connect youth to nature and the outdoors. Each activity includes background information, preparation instructions, material and time requirements, step-by-step instructions, and assessment suggestions.
Our fun and multi-disciplinary activities appeal to a broad range of learners, including students with diverse learning styles and cultural backgrounds. The activities incorporate STEM, reading, writing, and social studies, and teach students how to think, not what to think about environmental issues for developing students' critical thinking and problem-solving skills.
PLT Professional Development
Did you know? PLT also offers online, blended, and in-person professional development tailored for specific grade levels, academic standards, environmental topics, and formal and nonformal teaching situations. Consistently rated as one of the best professional development events they have ever experienced, most educators attend a PLT training because they were recommended to it by a colleague. Learn more at www.plt.org/trainings/attend-a-training.