Designed for students in grades 3-5, Energy in Ecosystems investigates the ways in which organisms depend on each other to survive and thrive. Students focus on forests—one of the largest and most complex types of ecosystems—and come to understand some of the interactions present in all ecosystems. In doing so, they learn to appreciate the natural systems on which we depend and begin to widen their circle of compassion to include all of nature.
Just announced:
Project Learning Tree's Energy in Ecosystems curriculum for grades 3-5 has been selected a Learning ® Magazine 2019 Teachers' ChoiceSM Award for the Classroom winner!
Learn more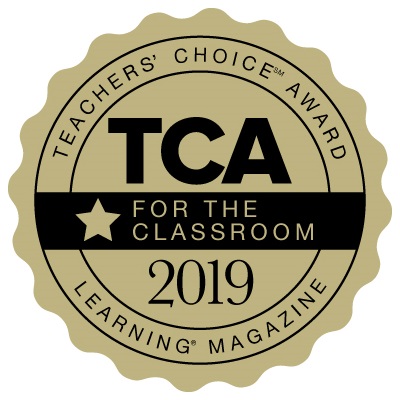 Project Learning Tree's hands-on and engaging activities help teach students how to think, not what to think about the environment and their place within it.
The activities are designed to develop students' critical thinking, problem-solving, and decision-making skills.
The lessons are flexible and easy to incorporate into your existing curriculum.
Activities are multi-disciplinary.

They are constructed around – rather than simply correlated to – targeted performance expectations of the Next Generation Science Standards (NGSS). They build on one another to foster students' understanding and skills for meeting the specific standards.
They are aligned with the Common Core State Standards for English Language Arts and Math.
They are aligned with the College, Career, and Civic Life (C3) Framework for Social Studies.
They are organized around the Biological Sciences Curriculum Study (BSCS) 5E Instructional Model – engage, explore, explain, elaborate, and evaluate.
What's included:
1. Energy in Ecosystems e-unit
Project Learning Tree's e-units support learning as a developmental progression. Teachers may use individual activities as stand-alone investigations or choose to conduct all e-unit activities from beginning to end.
The e-unit contains:
access to detailed step-by-step lesson plans online
downloadable student pages to guide learning
a range of assessment tools, including pre- and post-assessments and evaluation rubrics
easy-to-understand teacher background information
comprehensive, interactive connections to academic standards -- correlations are showcased for educators using innovative and interactive hyperlinks
resources for customizing the lessons to your students and situation
suggestions for fiction and non-fiction books to enhance the activities
more teaching tools, including links to websites, videos, online quizzes, and other supplementary resources
Review this Overview to learn more about what students will do, the setting, and time required to complete each individual activity.
2. Online professional development
The self-paced online workshop (approximately 3 hours) includes:
6 coursels (each a 20–30-minute learning experience)
video demonstrations of select PLT activities
lesson planning exercises to help you plan how to facilitate activities with your students in your own setting
certificate of completion
Review this Welcome Letter for more information about the unit's accompanying online workshop.
Continuing education credits and state-specific supplemental resources are offered in some states. For more information, contact your State PLT Coordinator.
Here's what a few teachers have said about PLT's Energy in Ecosystems e-unit:
"I honestly found the unit resources to be among the most well organized resources I have ever used." – Agnes Zellin, Delmar, New York

"This is a wonderful way to explore the many facets of the tree in our environment. It is easy to do, not a huge amount of preparation, and can be done even in an urban environment." – Laura Baker, Indianapolis, Indiana

After completing the online workshop, you'll be connected with a diverse and supportive professional network. You'll also be eligible to apply for a PLT GreenWorks! grant for your students to implement an action project to improve the environment at your school or in your neighborhood.